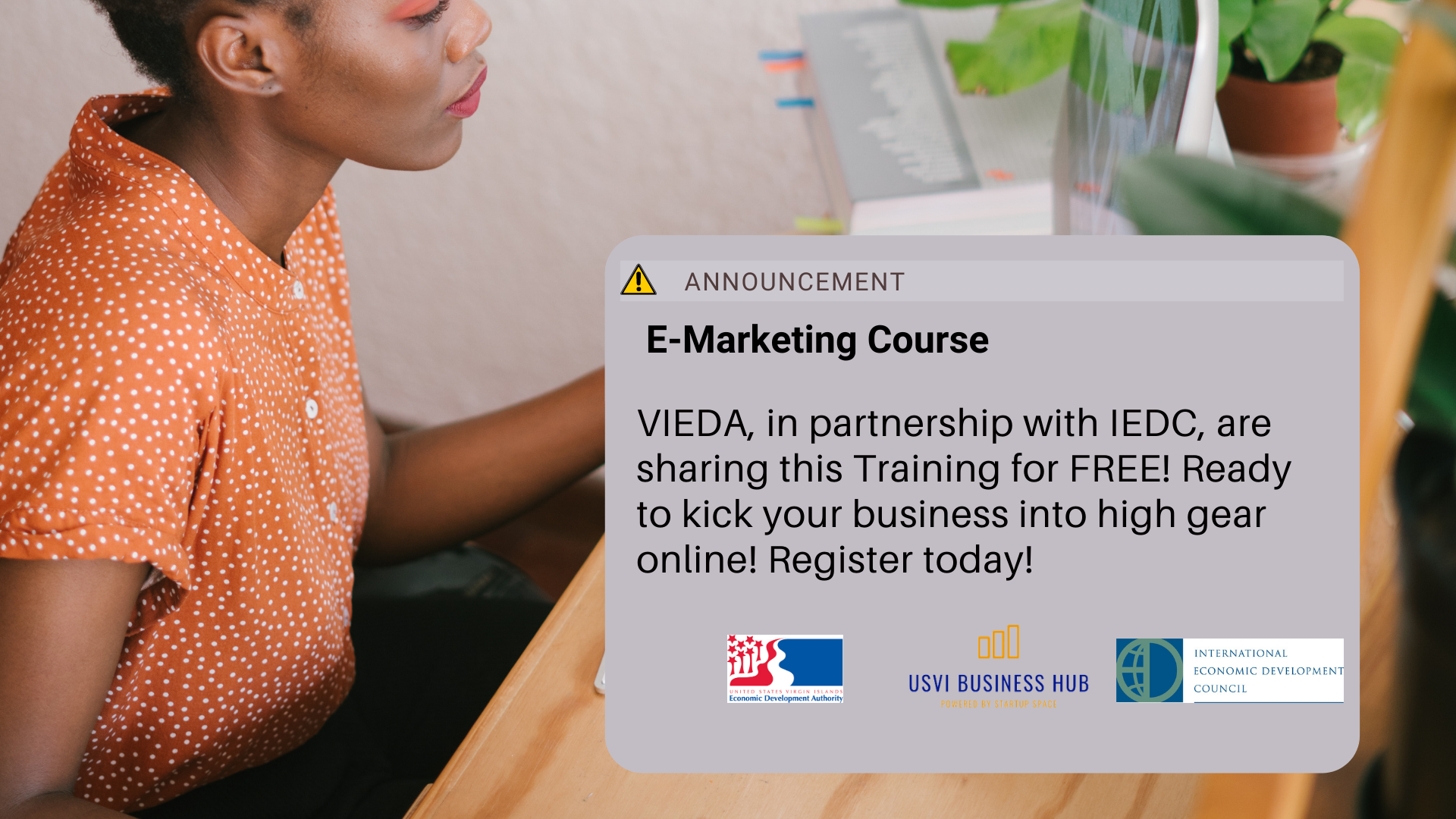 The Virgin Islands Economic Development Authority, in partnership with the International Economic Development Council (IEDC) is hosting an E-Marketing Training Course starting on Tuesday, February 9, 2021 at 5:30pm AST every other Tuesday until May 4, 2021. 
We will have local and national subject matter experts on each topic, in addition to real case studies of local businesses in the Territory.
Topic of the Week: Navigating E-Commerce and Online Sales
Online sales have dominated in the past year. Are you effectively driving customers to your website and maximizing your e-commerce platform? Learn how to promote your website to proper advertising channels and upsell to your customers.
- How to drive customers to shop on your website through advertising (print, digital, online, social, etc.)?
- How to maximize your e-commerce platform through upselling?"
Main Speaker: Tobin Lehman, President & Lead Strategist - New North
Case Study: Hey Island Girl, St. Thomas, U.S. Virgin Islands
Moderator: Shanell Petersen, VIEDA Managing Director, Marketing and Vision 2040
Check out the remaining courses in this 6-part series:
Fifth Week - 4/6 (5:30pm-6:30pm): Traditional Marketing Methods
Sixth Week - 4/20 (5:30pm-6:30pm): Customer Service: Do's, Don'ts, and Putting Your Best Face Forward
May 4, 2021 (5:30pm-6:30pm) - Final Recap: Breakout sessions with Subject Matter Experts
REGISTRATION LINK: https://us02web.zoom.us/meeting/register/tZwrceitqjMtGNI7ZAIuFW-HUb0V3LoAW1Pj
Event Date:
Tue, 03/23/2021 -

5:30pm

to

6:30pm