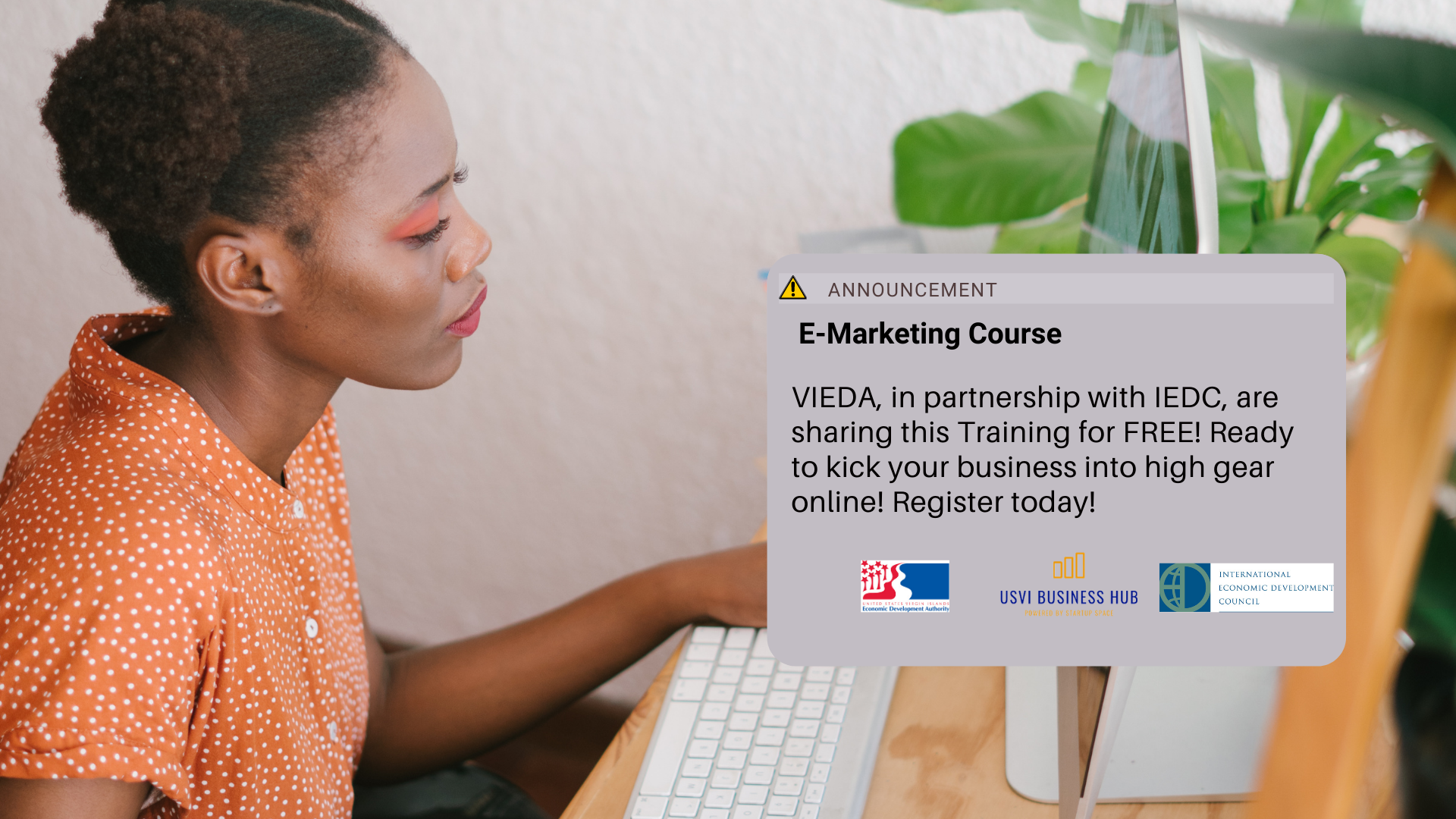 E-Marketing? Digital Marketing? Internet Marketing? What's the difference and why is it important to your business?
Consumers spent $211.5 billion during the second quarter on e-commerce, up 31.8% quarter over quarter, according to data published Tuesday by the U.S. Census Bureau. (Resource: cnbc.com) Has your small business been getting a piece of the pie?
The Virgin Islands Economic Development Authority, in partnership with the International Economic Development Council (IEDC) is hosting the third course on E-Marketing Training - Public Relations Best Practices on Tuesday, March 9, 2021 from 5:30pm-6:30pm AST.
TOPIC: Public Relations Best Practices
Join us to learn how to gain local and national media coverage with well-drafted press releases. We'll also uncover the best marketing and public relations practices to meet your objectives.
How to create press releases that get coverage with local and national media?
Do e-newsletters and direct mail marketing actually work? Best practices to meet your objective
Main Speaker: Sandy Dubay, Owner of Platinum PR
Case Study: EFEX Photography, St. Thomas, USVI
REGISTER:  https://us02web.zoom.us/meeting/register/tZIpcuyuqjstE9SopwcbFWz0otkOcOLoDn3E
RESOURCES:
Zoom Recording: https://us02web.zoom.us/rec/play/viYwgZxYi8JCixuv__US_I4wkMpiPXwd48HPslIR-WOWODaFchhKtUmaQwn8Sja9C5W3NeOWBaOnku7y.pzTJjmzmrYSGQq5N
Facebook Livestream: https://fb.watch/4q3AflH6pT/
Audio Only: https://us02web.zoom.us/rec/play/KG4UXTG1pkNEn18NYUuKwod8Y3J8-F4_rOaIJJsse6QAogY0Hg6XCNT29buytrokEIfXoII60kRxnNc.oVuLwLKAFgsPYXNx
Slide Deck Presentation: https://usvieda.org/sites/default/files/E-Marketing%20Week%203%20-%20Public%20Relations%20Best%20Practice%20-%203.9.2021.pdf
Event Date:
Tue, 03/09/2021 -

5:30pm

to

6:30pm