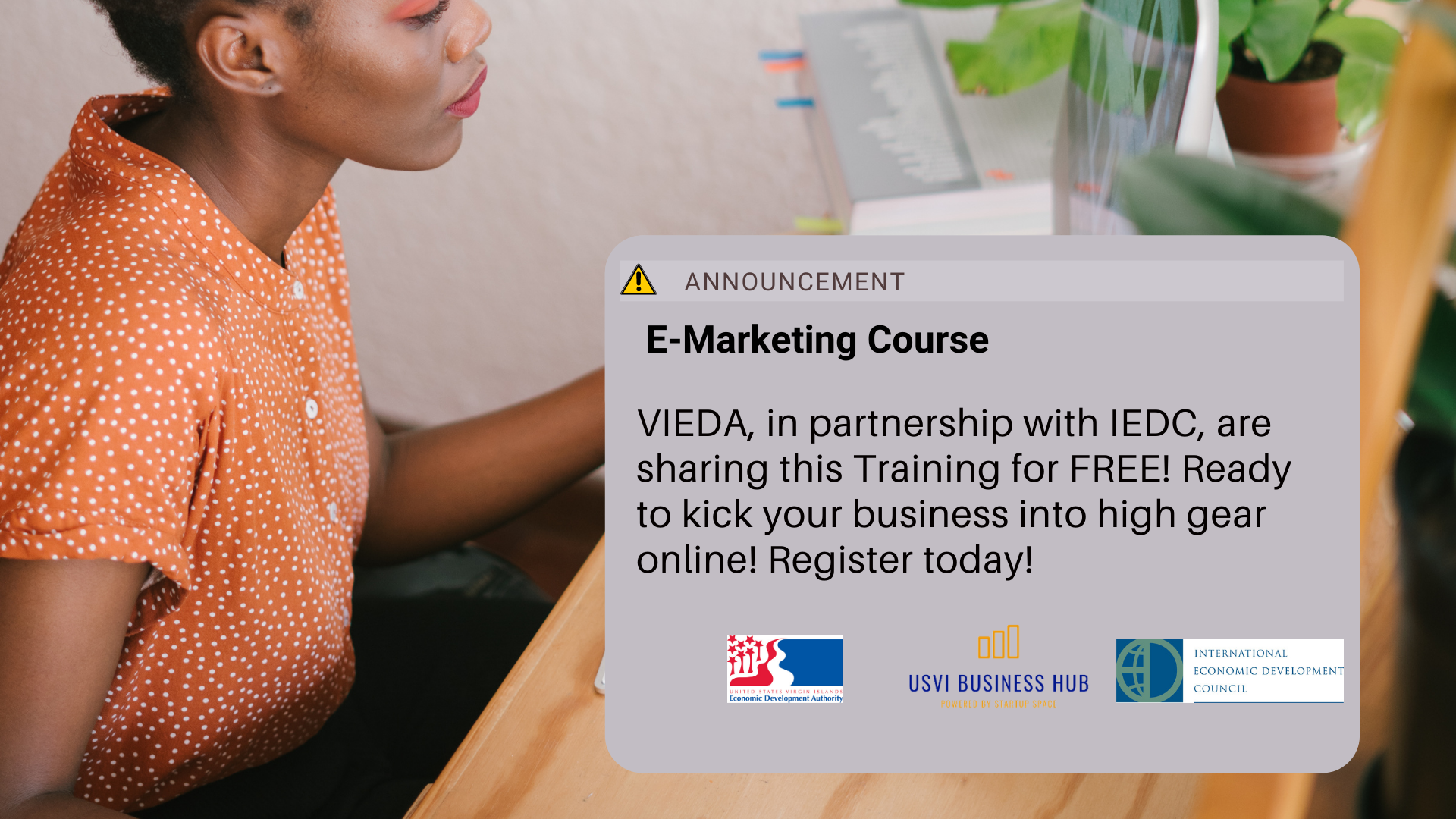 E-Marketing? Digital Marketing? Internet Marketing? What's the difference and why is it important to your business?
Consumers spent $211.5 billion during the second quarter on e-commerce, up 31.8% quarter over quarter, according to data published Tuesday by the U.S. Census Bureau. (Resource: cnbc.com) Has your small business been getting a piece of the pie?
The Virgin Islands Economic Development Authority, in partnership with the International Economic Development Council (IEDC) is hosting the second course on E-Marketing Training Course - Social Media Content and Management on Tuesday, February 23, 2021 from 5:30pm-6:30pm AST.
Social Media Content Creation and Management (Part II)
Videos are some of the most popular and engaging content on social media. Join us as we cover tips on how to create impactful videos to promote your business, product or service on your social media channels.
Tips to create impactful videos to promote your business, product, or services online (YouTube, Facebook, Instagram, Twitter, TikTok, etc…)  
Main Speaker: Amanda Rodriguez, Digital Content Producer, Social Media Consultant and Author
Case Study: Debbie Sun Designs - St. Croix, USVI
Check out the remaining courses in this 4 month series:
Third Week - 3/9 (5:30pm-7:00pm): Navigating E-Commerce and Driving Online Sales
Fourth Week - 3/23 (5:30pm-6:30pm): Public Relations Best Practices
Fifth Week - 4/6 (5:30pm-6:30pm): Traditional Marketing Methods
Sixth Week - 4/20 (5:30pm-6:30pm): Customer Service: Do's, Don'ts, and Putting Your Best Face Forward
May 4, 2021 (5:30pm-6:30pm) - Final Recap: Breakout sessions with Subject Matter Experts
REGISTRATION LINK: https://startupspace.app/detail-normal-events/15689/2021_02_09/15_57
Event Date:
Tue, 02/23/2021 -

5:30pm

to

6:30pm