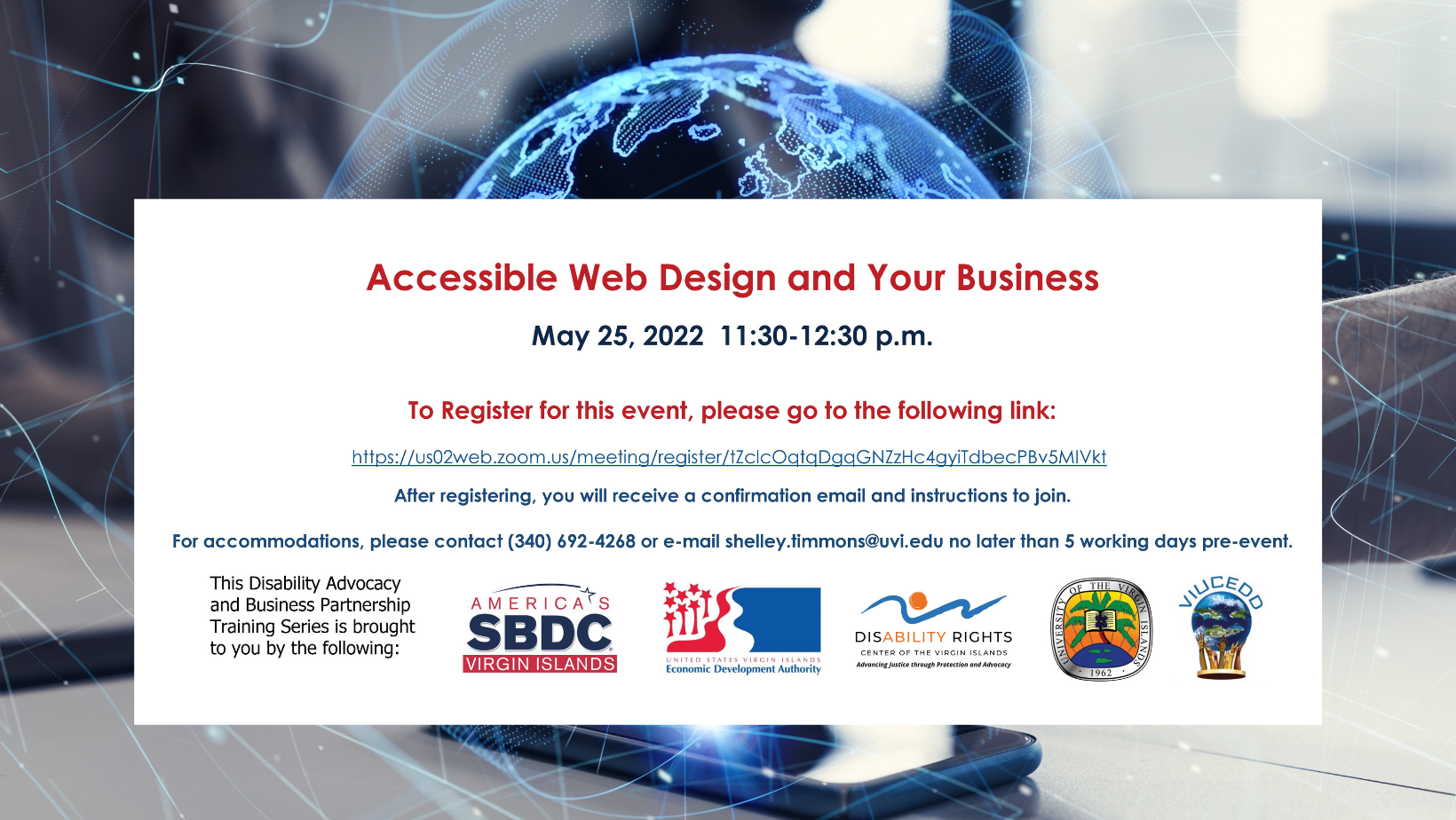 Accessible Web Design and Your Business
May 25, 2022 11:30-12:30 p.m.
Web accessible sites are developed so that people with disabilities can perceive, understand, navigate and interact with the web page. Join us to hear our panelists present and discuss accessible web design, and how your online marketing can reach a wider audience. Presenters include Jose Negron, VIUCEDD's IT specialist, who will introduce web-based design identifiers, digital documentation, and related accessibility features, and Gerard Evelyn, will share how he personally accesses and benefits from web-based design features, as an end-user who is blind.
To Register for this live Zoom event, please go to the following link:
https://us02web.zoom.us/meeting/register/tZclcOqtqDgqGNZzHc4gyiTdbecPBv5MIVkt
After registering, you will receive a confirmation email and instructions to join.
For accommodations, please contact (340) 692-4268 or e-mail shelley.timmons@uvi.edu no later than 5 working days pre-event.
Zoom Recording: https://us02web.zoom.us/rec/play/X27R_xr6IeL5Q3QA6wab2AH8pFDeWwOxMsjQKnZ_3h8QZP6tYEw4xlKWo_BRhS5pcUHrNODPDe8QTefM.CBcpeaBpJSL24Q0n
Passcode: 5yGM0G?X
Zoom Audio Only: https://us02web.zoom.us/rec/play/X7hZ2fHqqMAnSYV06_FGxrPRsE0OHqmyphNDtJAVArR0RZRC7rJfYMZCFqMQp8hkngNnjAdi5YIY-aQG.bGRy_dEeaaQ42MOW
Passcode: 5yGM0G?X
Facebook Livestream WATCH: https://fb.watch/de6pGORGYV/
Watch on YouTube: https://youtu.be/Ujm4-nQ7eV4
Event Date:
Wed, 05/25/2022 -

11:30am

to

12:30pm